Spring is here, and we're launching our 2021 Spring Compliments Campaign. Featuring 6 fantastic Better Earth Product Combinations.
Get to know our 2021 Compliments Pairings
ORGANIC HARVEST
 
One of the most rewarding parts of home gardening is simply being able to walk outside to pick some fresh herbs for your Sunday roast, or a ripe, juicy tomato for your lunchtime salad.
Growing your own produce can be so much more beneficial than just taste and convenience; you'll reduce waste, save money and finish with a beautifully knobby carrot you grew yourself to make it all worth it. But easily the most important of all is knowing exactly what goes into your garden, meaning there won't be any surprise chemicals showing up on your dinner table.
Rocky Point are passionate about home gardeners growing organic produce, so we've teamed up two of our most beloved products to help you create a garden that can help you get compliments on your Organic Harvest.
Urban Jungle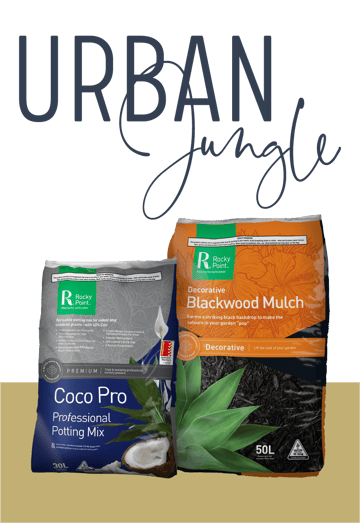 Grouping different plant varieties, tones and textures together is a quick way to replicate those jungle vibes in your home. Just think about wandering through a jungle, and everything you'd see from tall trees, climbing vines to bushy underplanting, all growing harmoniously.  
But surrounding yourself with plants in your home doesn't just look great, it's scientifically proven to be beneficial as well!  Being close to nature has been linked to positive mental well-being, and as our towns and cities become more and more developed, having your own inner sanctuary at home is increasingly important. Indoor plants help to reduce stress levels, making you feel more comfortable, soothed and natural. They purify the air around us, and plants create positive changes in the brain's electrical activity, muscle tension and heart activity.  
But regardless of the health and wellbeing benefits to having indoor plants, they simply look great. And when you've got Rocky Point products on hand, you'll be sure to get compliments on your Urban Jungle.  
Beautiful Blooms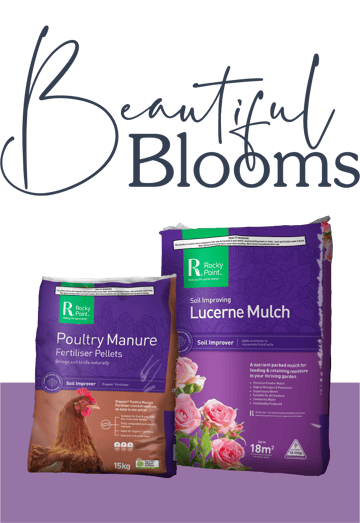 Flower gardening is a much-loved hobby, from a welcoming sight as you come home each day, creating an oasis to enjoy on weekends, or just having access your own flowers to cut and display indoors or gifting to friends. There are so many great reasons to want to grow some flowers of your own.  
Layering is key when growing beautiful blooms. Start with some feature tree or shrub varieties, and then consider underplants around with annuals and perrenials to keep blooms going year-round. There are so many planting options, you never have to be without a little floral colour in your garden, no matter the season.  
With Rocky Point products on hand, you've got everything you need to create a garden that can help you get compliments on your Beautiful Blooms. 
Ornamental Utopia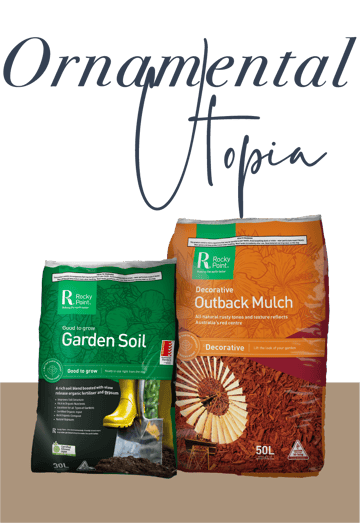 Beautiful gardens don't need to be all about flowering plants, and there are so many options of beautifully textured grasses, trees, shrubs and other foliage plants to bring your space to life.  
Apart from simply increasing the aesthetic value of your garden and property, ornamental plants also improve the quality of the space in providing shade, cleaning up the air, acting as wind barriers, reducing erosion and providing habitat for wildlife. Consider adding layers of plantings from feature trees, to bush shrubs and hedges and underplanting in borders or using long grasses.  
We've combined two great Rocky Point products as the simplest way to get compliments on your Ornamental Utopia.
Luxe Lawn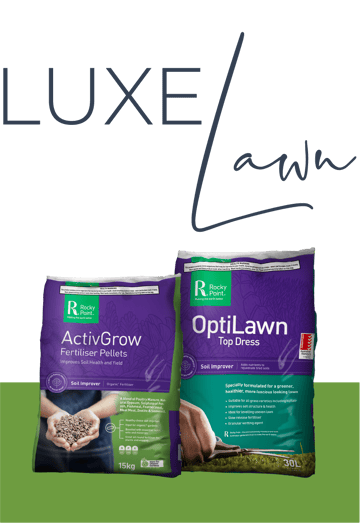 Imagine transforming your prickly, crispy lawn into a lush, luxe, deep green carpet, like you see covering golf courses, country clubs and in magazines.  
A well-kept lawn is not only a pleasure to look at, it also offers an inviting place for your family to relax or children to play. There are so many benefits to having a lush lawn at your home, from promoting physical activity, enhancing your mental wellbeing, and to improving soil health by curbing erosion. 
Having a great lawn doesn't need to be taxing. With Rocky Point and a little love, you'll be sure to get compliments on your Luxe Lawn.  
Native Wonderland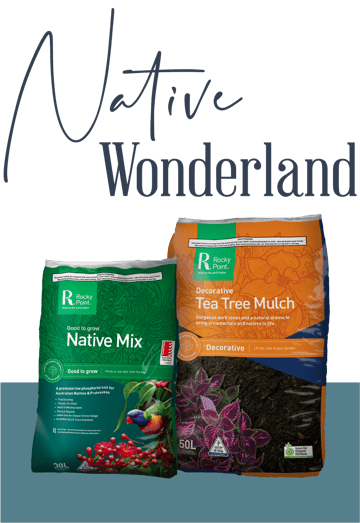 Growing indigenous plants in your garden is super easy as the endemic varieties are naturally, perfectly suited to our local conditions.  
But that's not the only benefit to creating a garden full of natives at your place. Indigenous plants attract native wildlife to your garden giving them their three main needs in food, water, and shelter/protection. They're also incredibly drought-tolerant, making them the perfect option if you have a spot that doesn't get much water, as most natives will survive off rainfall alone (no matter how little). And due to not needing much in the way of water or fertiliser, they're fantastic as a low maintenance garden option that still looks great! 
When it comes to growing the ultimate Aussie garden, Rocky Point has you covered, with these products you'll soon be getting compliments on your Native Wonderland.